Stainless Steel Water Tank Introduction - Get Kaung Enterprise Co., Ltd.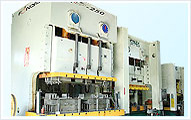 Get Kaung stainless steel tank is a professional deep drawing company for metal fabrication manufacturer and located in Taichung City ( middle of Taiwan ). We established in 1972, about over 42 years experience to Manufacture Stainless Steel Water Tank, Stainless Steel Storage Tank, Deep Drawing Presses , Hydroforming , Metal Stamping Services.

Get Kaung manages to manufacture in different sizes and shapes of stainless steel water storage tank according to client's needs. About 42 years ago, we made stainless steel water storage tank by hand. But have a lot of people want to order stainless steel water tank ,and thus designed the whole plant of stainless steel water tank to provide good quality stainless steel tank.
After the experience of Whole Plant of Stainless Steel Water Tank, we develop and research the hydraulic machine. We make stainless steel water tank cover, stainless tank lid, and tank cap and tank machine by ourselves. In addition, we set new production and service for designing new mould to meet client's needs. We provide skillful Deep Drawing Mold Technology and professional utilization in the field of metal forming, metal stamping in Taiwan.
We continuously develop the new molds in accordance to different client's requests. Therefore Get Kaung has skillful engineers, sufficient experience and updated facilities in the plant. For all these factors, we can maintain our extremely high reputation in the field of metal working OEM/ODM industry.
Stainless steel storage tank and Metal deep Drawing, Metal Stamping export to whole world
Our company persists the high quality, best service, low defect, and competitive price; four main principles bring our products not only spreading in Taiwan local market, but also to USA, Nigeria, Uganda, Syria, India, Indonesia, Mexico, Vietnam, the Philippines, Malaysia, Hong Kong, Puerto Rico, Iraq, Brazil, China, Italy, Paraguay, Russia, Myanmar and all over the world.
Factory Area Measurement
3 workshops; total in 5280 square meters and new workshop is under planning now.
Employees: 30 persons. We are continuously recruit outstanding persons.
The Board of Directors: 3
Human Resources: 2
Financial Department: 3
RD Department: 2
Sales Department: 6
Workshop Operating: 15
Driver: 2


Metal Deep Drawn Product and Metal Deep Drawn Services
We offer the service of Metal Deep Drawing, Metal Stamping, Metal Welding, Metal Cutting, Metal Bending, Drawing Die, and Metal Fabrication,Stainless Steel Water Tank Machine to our customers, in good quality and good delivery. We also provide the total solution for Whole Plant of Stainless Steel Water Tank and teach customer to make Stainless Steel Water Tank, Stainless Steel Material and Water Tank Semi-Finished Product, Stainless Steel Accessory.